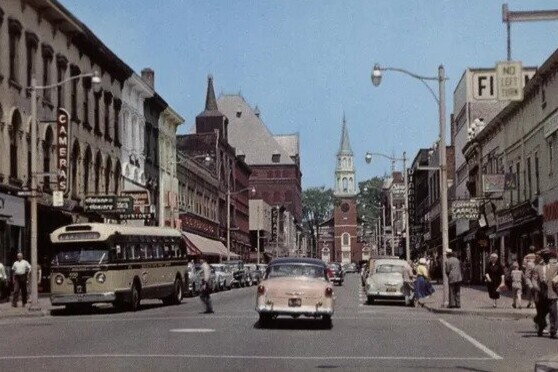 1962
In 1962 architecture student Bill Truex experienced the transformation of Strøget, Copenhagen's main shopping center, that went from a "traffic-snarled nightmare" to a successful pedestrian mall. Seven years later, as chair of the Burlington Planning Commissioner, Truex enlisted the support of Pat Robins, chair of the Street Commission, to promote the idea of turning Church Street into an inviting pedestrian district. U.S. Senator Patrick Leahy and his chief of staff, Paul Bruhn, secured a federal grant and Burlington voters, with support from Mayor Gordon Paquette, passed a bond for the city's share of construction costs.
The Preston Company, c. 1960. Courtesy Champlain College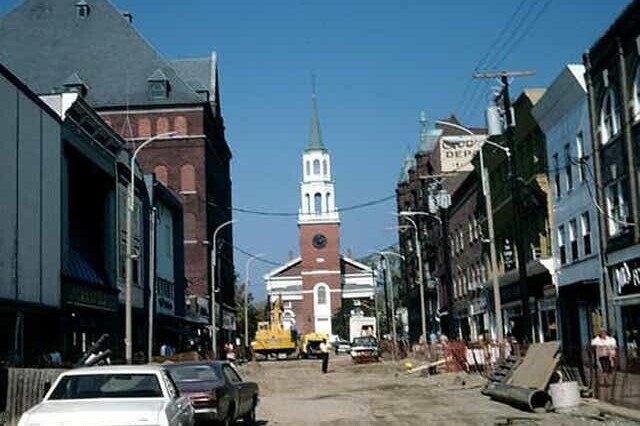 1980
The two blocks between the College Street and Cherry Street intersections were permanently closed to traffic on July 7, 1980. The Church Street Marketplace officially opened as we know it today on September 15, 1981, and has since been described as the "gem in the crown" of the Queen City of Burlington.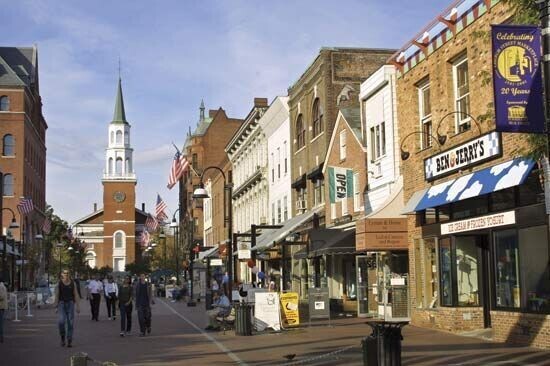 1994
In 1994, the Marketplace's top block (between the Cherry Street and Pearl Street intersections) was closed to vehicular traffic and resurfaced with brick. In 2005, City Hall Block (between the Main Street and College Street intersections) was the final block to be closed to vehicles and resurfaced with brick.
The Church Street Marketplace is listed on the National Register of Historic Places, and has been designated as one of America's Great Public Spaces by the American Planning Association.